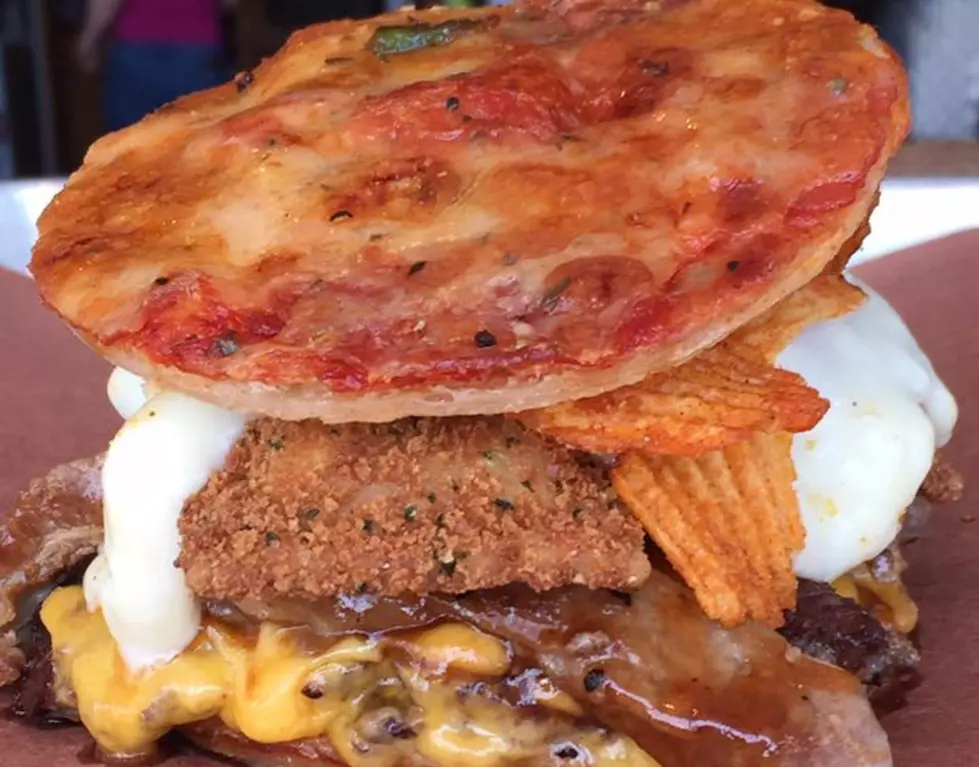 What Would Be the Most Quincy Burger Ever?
via Sugarfire Smokehouse St Charles on Facebook
St. Louis-based barbecue joint Sugarfire Smoke House has concocted what is being called "the most St. Louis Food of All Time." I've taken to referring to it as "a light snack" and "definitely how I die." Ladies and gentlemen... this is Mambo #5. WAIT! No. Not that, that's a different thing. This is the St. Lunatic Burger.
The single patty is dressed with pretty much any St. Louis food item the chefs could get their hands on (provel cheese, toasted ravioli, Red Hot Riplets, a pork steak), smothered in barbecue sauce, and smashed between two slices of Imo's pizza.
In collecting my thoughts on all of this, I kept landing on one particular line that perfectly encapsulates all that is the St. Lunatic Burger. Jeff?
The only way it could more representative of St. Louis is if it came with a side of a football team that leaves halfway through the meal to find the nearest In-N-Out burger.
The winner of our Burger Bracket Challenge was Chicks on the River, so obviously, they're the base patty. That's where the Quin-Lunatic starts. And now that I've said it, I don't like the name Quin-Lunatic. The LunaQuinc! BOOM! There we go.
So we start there with the patty. Then we add some Maid Rite on top of that. We're waiting patiently for the brewery side of O'Griff's to reopen, but if we had access to their beer, the meat would be marinated in that. We can go Spirit Knob Winery in the meantime. I guess a wine burger is something new and weird. I've never had one, and I've had a lot of burgers. Next, we add some Hungry McGee beef jerky. Then you drench it in some LaGondola marinara sauce, followed by some Kelly's cheese soup. And the bun is Underbrinks Angel Food Cake. And then some Deters Frozen Custard for dessert.
I kind of want to try The LunaQuinc now.
More From KICK FM, #1 For New Country