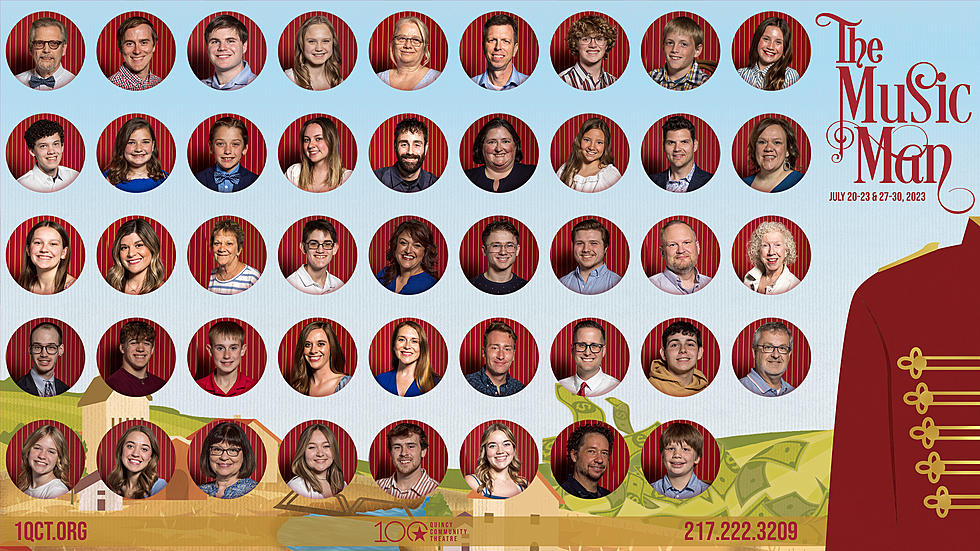 Tickets are now on sale for The Music Man at QCT
Quincy Community Theatre
Here is your chance to secure tickets to the biggest event in the Tri-States this summer! Tickets are now on sale for The Music Man at Quincy Community Theatre.
It's the moment many of you have been waiting for tickets are officially on sale for The Music Man at Quincy Community Theatre!
If you want to buy tickets you have a number of different ways to do so...
1. Buy them on the Quincy Community Theatre website by clicking here!
2. Call the Quincy Community Theatre box office at 217-222-3209
3. You can go directly to the box office which is located inside the lobby of the Oakley-Lindsay Center in Quincy at 300 Civic Center Plaza.
Tickets to this show will sell out fast! If you are trying to get tickets for a particular night don't wait. The show runs July 20th-23rd, 27th-30th aka the last two weekends of July.
What is The Music Man about? On the Quincy Community Theatre website, they say...
"THE MUSIC MAN follows fast-talking traveling salesman Harold Hill as he cons the people of River City, Iowa, into buying instruments and uniforms for a boys' band that he vows to organize – this, despite the fact that he doesn't know a bass drum from a pipe organ. His plans to skip town with the cash are foiled when he falls for Marian, the librarian, the very person who sees through his scheme. By turns wicked, funny, warm, romantic and touching, THE MUSIC MAN is theatre entertainment at its best."
For more information on The Music Man at Quincy Community Theatre click here!
I can say that being a part of the cast of The Music Man at QCT so far has been one of the most enjoyable experiences I have had volunteering at the theatre. This cast is terrific and you will regret not taking the time to see your fellow Tri-State area residents put on a terrific show!
LOOK: Baby boomer baby names that have gone out of style
Using info from the Social Security Administration's baby name database,
Stacker
compiled a list of baby boomer baby names that have declined in popularity.
More From KICK FM, #1 For New Country