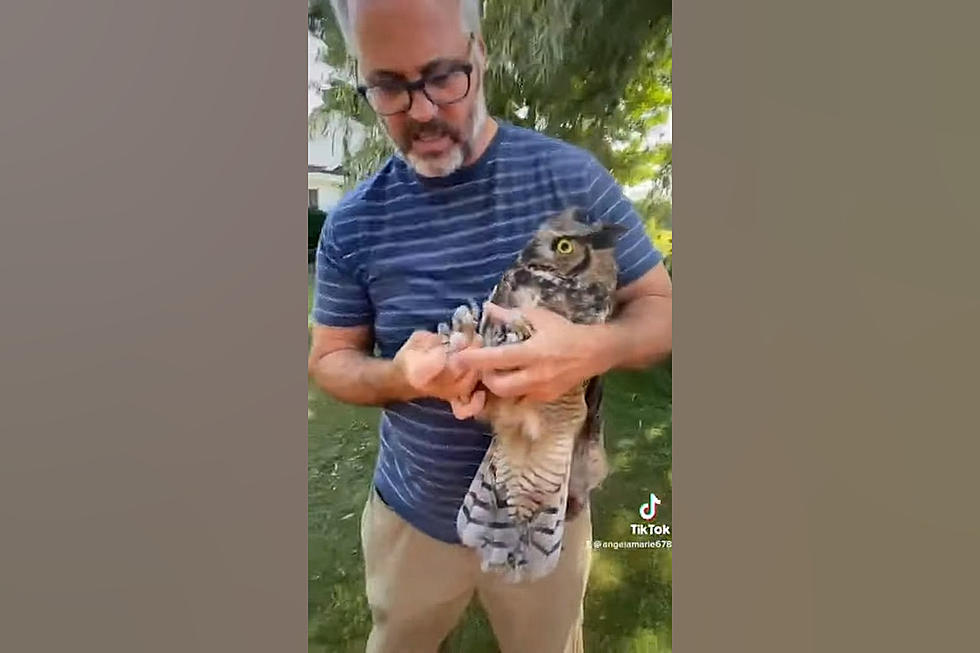 Midwestern Family Rescues a Huge Owl Stuck in their Chicken Coop
Angela Bartkus via Storyful/YouTube
If you have a chicken coop, you are likely used to predator invaders. One Midwestern family had one of those, but not the typical kind. It was a large winged bird who was likely hoping for a chicken dinner, but ended up injured until the family came to the rescue.
Angela Bartkus of Cedarburg, Wisconsin shared this video showing what happened when a huge owl became stuck in the wire of their chicken coop.
It's no simple feat to convince an owl who has talons locked into fencing that he/she/it needs to let go. You're taking your own fingers into a dangerous place as these birds can latch on with a grip that can seriously mangle you. A great horned owl website notes that they can squeeze with a pressure of 500 pounds per square inch. Ouch.
Angela made reference to her husband being a Dr. Doolittle of sorts who has a way with animals which is why he was tasked with rescuing this bird. While their chickens were not happy with the situation, they were able to successfully rescue the owl and he even managed to remove a painful part of the owl's talons so he could fly off healthier than he was when he got himself in that predicament.
Missouri Prepper Paradise - Survival Bunker Hidden in the Ozarks
Shady Lodge Cabin Airbnb Near Edina with Pond & Deer Heads
More From KICK FM, #1 For New Country