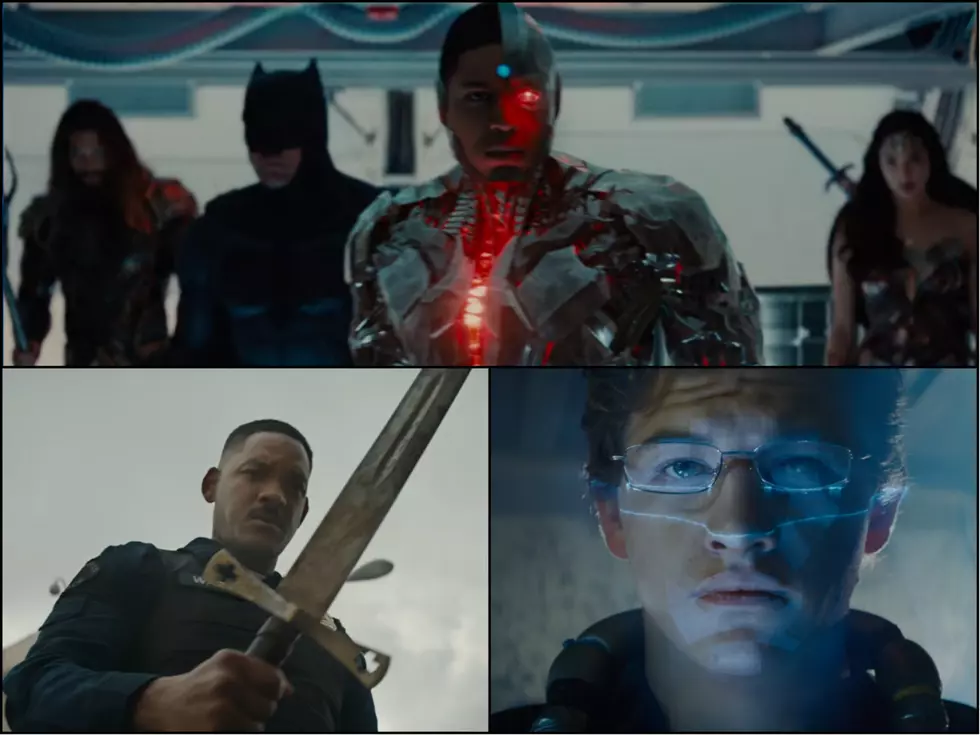 Best Movie Trailers From Comic-Con
Warner Bros. Pictures via YouTube/Netflix via YouTube/Warner Bros. Pictures via YouTube
San Diego Comic Con didn't just debut TV trailers, there were some amazing first and second looks at upcoming films. Here were my favorite movie trailers that debuted over the weekend.
5 - Kingsman: The Golden Circle
The first one was a surprise hit back in February of 2015, and now they've gone bigger and broader in scope for the sequel, featuring an all star cast. Seriously, I count four Oscar winners. And Channing Tatum. Kingsman: the Golden Circle hits theatres September 22nd.
4 - Bright
I've been a fan of Will Smith since I was about nine years old, so maybe my Fresh Prince bias is showing in my excitement for this one, but I'm really excited for a gangland action thriller, but the gangs are fantasy creatures. I like the idea of a modern-day-set fantasy with everything out in the open, rather than "vampires fighting werewolves fighting witches fighting ghosts fighting trolls in the secret shadows of secrecy" like Underworld or The Last Witch Hunter. Bright premieres on Netflix in December.
3 - Thor: Ragnarok
I think this is where the Thor franchise needed to go. The first two films were just "eh," in the larger MCU canon, and didn't really leave a mark (especially The Dark World). I feel it really needed to make a complete departure from the norm, and this completely cements that New Zealand director Taika Waititi was the perfect choice to make this film (reserving full judgement until I see the film, of course, but I'm super on board with this). I can't wait to see Cate Blanchett in villain mode. Thor: Ragnarok hits theatres November 3rd.
2 - Justice League
There's a lot of behind the scenes drama to unpack with this. Partly the trouble that The Flash film has seen, but mostly the EXTENSIVE reshoots from 2nd unit director Joss Whedon. It's more than they initially reported, and we may even see a completely different movie than what Zack Snyder shot. But from this sneak peek, it would appear they're taking cues from Patty Jenkins' Wonder Woman and going brighter and lighter, as opposed to the dour, grim tone and look of Snyder's Batman v Superman: Dawn of Justice. Either way, I'm looking forward to it. Justice League hits theatres November 17th.
1 - Ready Player One
What intrigues me most about this new one from Steven Spielberg is that it's the one I know the least about. I've never read the book (it's shot up very high on my list, though), and the cast is mostly relative unknowns. No big stars in lead roles. Just one of the greatest living directors and a cool high-concept. I'm 100% ready to go for this one.
More From KICK FM, #1 For New Country