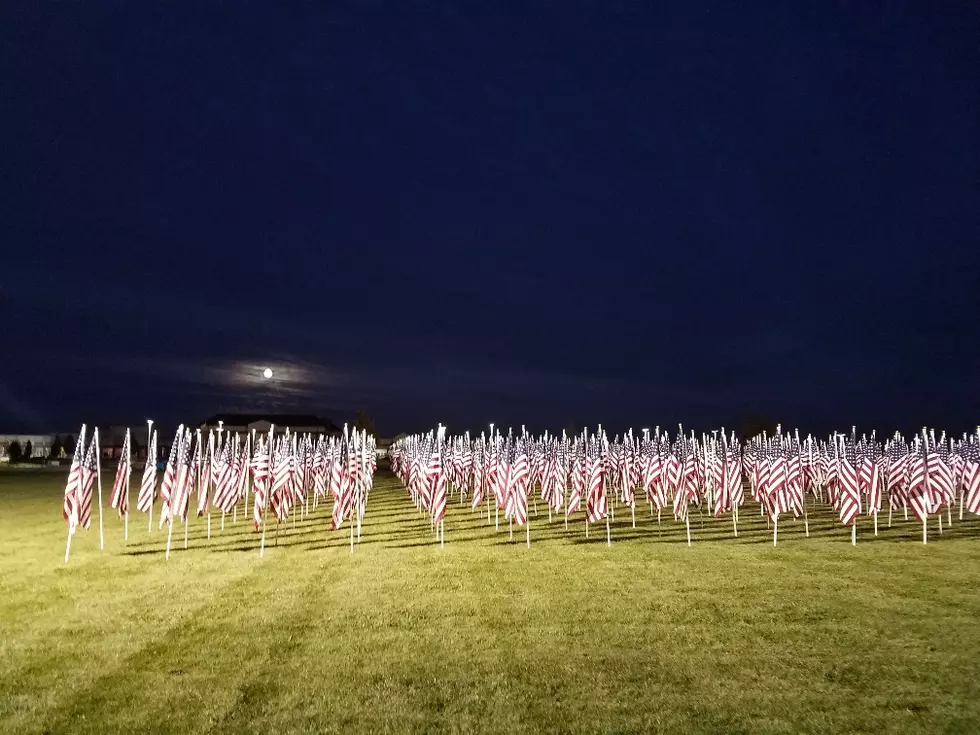 Exchange Club 'Field of Honor' at 16th & Vermont Starting Friday
Jeff Dorsey
The Quincy Exchange Club's Annual "Field of Honor" American Flag display will be available for viewing this weekend. The 1,000 flags will be on display this year at 16th Street between Vermont and Broadway in Quincy (the old St. Mary's Hospital site). The display will be set up Friday afternoon, 9-11 Remembrance Day and remain up for viewing day or night thru Monday afternoon'
This will be the 7th year for the Quincy Exchange Club's "Field of Honor".  Last year and the first two years it was on display at the Illinois Veteran's Home. It has also been set up at for two years at Madison Park and one year on the lawn of John Wood Community College.
Enter your number to get our free mobile app
This beautiful panorama of red, white and blue will greet visitors day and night. The flag display, which is free of charge, is a wonderful site during the day, but most people seem to enjoy the illuminated "Field of Honor" during the evenings.
All are invited to visit the "Field of Honor" display to support the Quincy Exchange Club in presenting an event that will draw area residents together honoring those who have served us to protect our freedoms and to honor those lives lost during the 9-11 attacks in 2001.  The "Field of Honor" flag display event and the "Flags of Honor" neighborhood flag display program promote the display of the Stars and Stripes throughout the Quincy community.
Speaking of "Flags of Honor", if you would like to purchase a subscription for one of the flags, perhaps for a Christmas present, the Exchange Club can provide a very nice gift certificate that they can wrap for giving. The certificates will be available at the display this weekend. The cost is only $30 to have one of the American Flags placed on your property during four different holidays. With 1,000 flags available for subscription, the proceeds will go to the club's projects - like the recent purchase of the Freedom Gallery at Quincy Senior High and Quincy Notre Dame High Schools.
In coming years, the Exchange Club plans to put Freedom Galleries at the five new elementary schools, as well as at all of the parochial schools. For more information on a $30 subscription, go to Q-Flags.com or stop by the Exchange Club's table this weekend at the flag site.
More From KICK FM, #1 For New Country