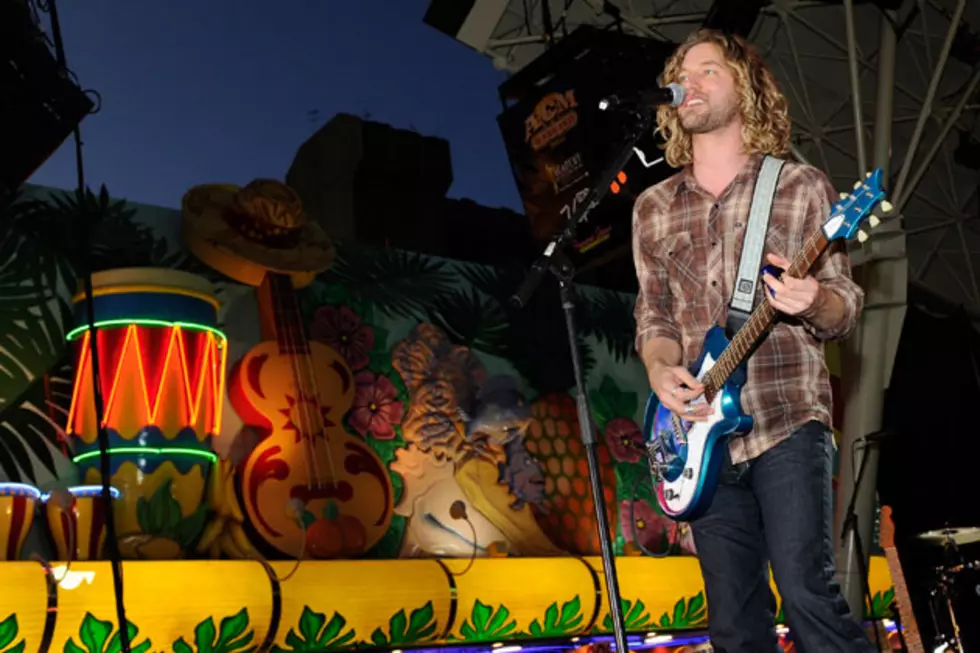 Casey James Interview: Singer Dishes on Acting Anxieties, 'Homeless' Days and What He Does With Fan Phone Numbers
Ethan Miller, Getty Images
In his new 'Crying on a Suitcase' music video Casey James makes his acting debut, and he admits he was nervous about it. One would never guess as much after watching the finished treatment for the clip, however, as James plays the part like he smiles or plays his guitar -- naturally.
The 30-year-old's follow-up single promises to best his debut in terms of chart success, but even if it doesn't, it sounds like James will still be at peace with his music and career. During a recent phone interview with Taste of Country, the one-time 'American Idol' contestant shared that there are certain things beyond his control, and how much airplay he gets may be one of those things.
In addition, the Texas-born blues influenced singer dished on the most sincere form of fan flattery, the time he was living close to homelessness and what he'd like to do with every phone number a cute fan slips him before or after his live shows.
Taste of Country Who is the girl in your new music video?
Casey James: She's an actress. A very talented and sweet young lady named -- well, I'm not going to name her. She doesn't want me to call her name out [laugh].
Really, you would think she wouldn't mind the publicity?
I think it has something to do with fans and stuff, you know...
Right, she's gonna get the Selena Gomez treatment or something?
Exactly. I'm sure she gets enough work without my help. She was great to work with and super talented and I thought she did a great job on film.
This was your first acting gig in a video. What was the most difficult part?
The most difficult part without a doubt was during the anger scenes. Everything else I can get a grasp on. It's easier to make to believe that you like somebody than it is to make believe that you're fighting with somebody, because to fight… I guess this is just me talking off the top of my head, but you don't have to have a reason to love on somebody but you definitely need a reason to fight with somebody.
Were the angry scenes of you staring into the mirror difficult?
You know, the mirror stuff wasn't as bad, because in my mind it wasn't as much anger as it was turmoil. The hardest thing for me was playing off of her and us trying to be really angry at each other when we really didn't have any of that background at all. So beforehand I would say, 'We've been going out for like two years and you just found out that I cheated on you' or whatever, and just make something up off the top of my head. And we would kind of play off that.
Do artists who are shooting music videos that require some acting get any coaching or training to prepare?
Not that I know of, generally. I think it's just kind of, 'Go in and wing it and hope that you do well.' But I was very nervous about it and I didn't want to do it unless I was gonna do it right, and so I had an acting coach and spent quite a bit of time with her and she gave me a lot of really, really good help.
Do you have an official goal list that you keep for your career?
I know this might sound funny. I'm a very goal-oriented person in certain ways, and then in certain ways I understand that there's nothing at all that I can do about certain things. In other words, I would never set a goal that I don't have control over achieving. Those things include, unfortunately, so much of my profession… I can't control how high my song goes on the charts, you know what I mean. I mean, I can sway it a little bit by working as hard as I can, hopefully being a decent person and giving good interviews and working hard on the road and being nice to people and shaking hands and doing everything you can do. Even when you do all that, you can still fail miserably.
I think to myself, 'What do I want to be doing and where do I wanna be?' and I wanna look at my happiness level, because for me there's just a few things. It's about being able to spend time with friends and family. Spending time with my dogs. I know that sounds ridiculous but it's the little things and I've been blessed that I have a home to live in and I don't have to be scared that I'm gonna be homeless. Cause I've been there and that's no fun.
You've been homeless before?
I wouldn't use the term "homeless" but I've been without a place to stay before for sure. I think there's a drastic difference in terminology. I've always had friends and family in places that I could crash but there have been times where you don't have the money, or you're living in a truck or something like that.
You recently tweeted a picture of a fan who had tattooed one of your lyrics on her foot. Is that the most sincere or over-the-top showing of fan support that you've had?
Well without a doubt. I think that's a very intense thing to do. What I loved about is I was right there with some lyrics from a Randy Travis song, which to me kind of says it's not as much about me necessarily as it is the music itself.
Your fans are are fairly intense. They're loyal.
[laughs] They definitley are loyal, no doubt.
When was the last time a fan slipped you her phone number at a show?
When was my last gig? [laughs] You know what, that's the honest answer to be 100 percent truthful. But I think it has as much to do with my being always happy to meet people and I'm a very cordial, friendly person naturally. I think that sometimes allows people to kind of come out of their shell and maybe go for something that they wouldn't normally go for. What I feel bad about is I'm the type of guy who likes to reward people for taking a chance… and so it's just a shame that I can't call up everyone that does that and say, 'Just wanna let you know it was nice to meet you and thank you.' But then you give people the wrong idea.
Have you ever been interested in someone and called?
Not one time. At the same time that I love meeting people and stuff, I'm a very private person.
More From KICK FM, #1 For New Country