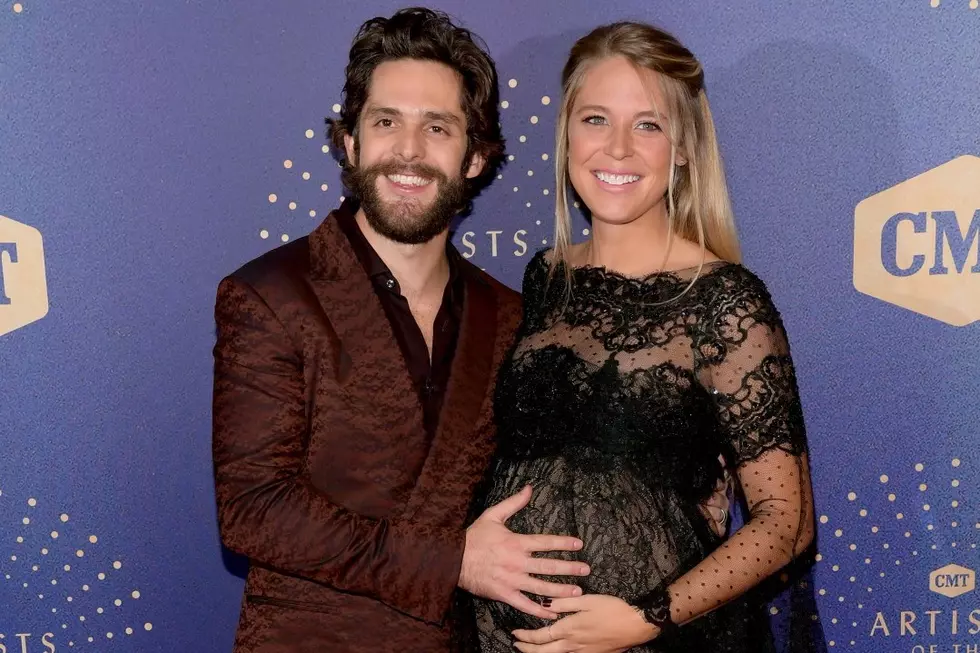 Thomas Rhett's Daughters May Come to the CMA Awards
Jason Kempin, Getty Images for CMT/Viacom
Thomas Rhett may have not just one, but three beautiful dates to the CMA Awards this year.
The "Look What God Gave Her" singer is considering taking his entire family to the big event, assuming his two toddlers can make it past their bedtime.
"I tell you what, maybe! Maybe," he tells the with a laugh. "They usually go to bed at eight. If they can stay awake that long, I might just do it."
The 29-year-old and his wife, Lauren, are expecting their third child, another girl, next year. The couple are already parents to 4-year-old Willa Gray and 2-year-old Ada James.
Thomas Rhett's "Look What God Gave Her" Is the Ultimate Tribute to His Wife
He is also nominated for the coveted Album of the Year award.
"Album of the Year is about the coolest award I could be nominated for," he admits. Center Point Road may be his most personal body of work to date — an album named after a street in his hometown that encompasses his family and relationship with his upbringing.
"You spend so much time on the road writing and figuring out what the direction of the album is going to be. And when you have that many people that voted for an album, to be one of the top five or six, that's pretty mind-blowing," he says.
Rhett has is staying humble and has his sights set on one thing: Enjoying the night.
"The CMAs are one of my favorite nights of the year. You get to see everybody, you get to dress up," he says. "Every time I'm nominated, I go in with very low expectations for myself. But it's always super cool when you do win."
The 2019 CMA Awards are scheduled to air live from Nashville's Bridgestone Arena on Nov. 13 at 8PM ET. Reba McEntire, Dolly Parton and Carrie Underwood will host the show together. The night will have a focus of showcasing female artists in 2019.
These Pictures Prove Thomas Rhett and Lauren Are Meant to Be
More From KICK FM, #1 For New Country