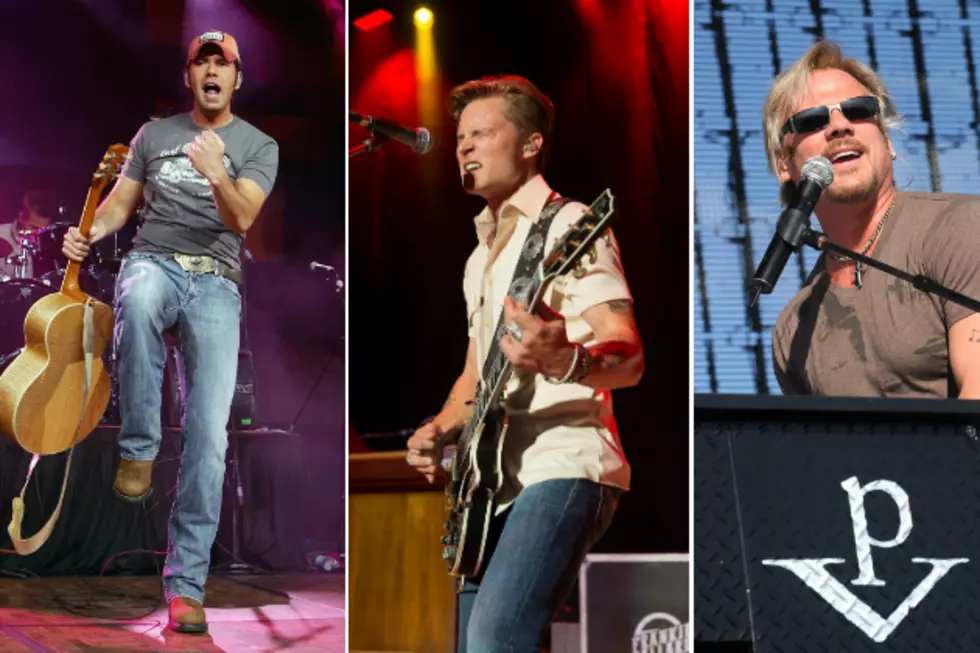 NEMO Fair Bringing Three Country Stars to Kirksville
Rick Diamond /Christopher Polk / Ethan Miller, Getty Images
The NEMO Fair in Kirksville, Missouri will take place July 12-July18. The fair has three consecutive nights of entertainment planned, with headliners that you will recognize.
First up is Rodney Atkins, who will be at the NEMO Fair on Monday, July 13. Frankie Ballard plays on Tuesday, July 14, and singer/songwriter Phil Vassar will be at the fair on Wednesday, July 15. All shows start with an opening act at 7 p.m., and the headliners will take the stage at 8.
Atkins has charted seven Top 20 hits, five of which went to No. 1, four of them consecutively! "If You're Going Through Hell," "Watching You," "These Are My People," "Cleaning This Gun" and "It's America" were chart toppers for Rodney Atkins.
Frankie Ballard is somewhat of a newcomer to country music. He's released two albums, but has only started finding chart success in the past couple years. "Helluva Life" and "Sunshine and Whiskey" went to No. 8 and No. 5, respectively, on the Hot Country Songs chart, and both hit No. 1 on the Country Airplay chart.
Phil Vassar has made a name for himself as a solo artist, and as a top songwriter for some of country music's biggest stars. Some of his best-known hits include: 'Carlene,' 'Just Another Day in Paradise,' 'Six-Pack Summer,' 'That's When I Love You,' 'In a Real Love,' and 'Love is a Beautiful Thing.' As a songwriter, Vassar has written hits for artists like Tim McGraw ('My Next Thirty Years'), Jo Dee Messina ('Bye, Bye'), and Alan Jackson ('Right on the Money').
The NEMO Fair is a "pay one price, do it all" fair. Daily tickets are $20 at the gate. Season passes are $50 at the gate. Tickets can also be purchased at a number of local businesses.
NEMO Fair Ticket Locations
Hy-Vee • Ayerco South
Ayerco North
Walmart • Farm & Home
More From KICK FM, #1 For New Country