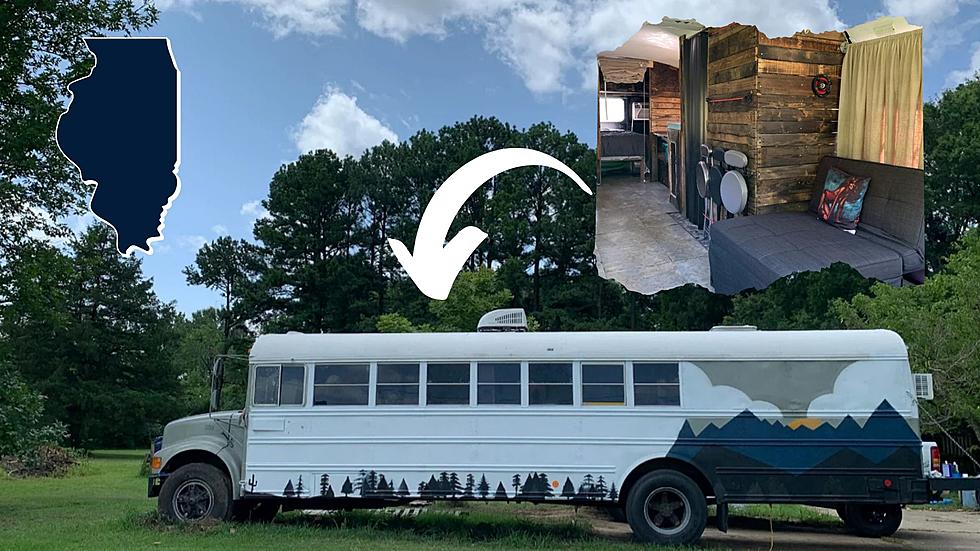 Someone Turned an Old Illinois School Bus into a Tiny Nature Home
Aaron, Tiny House Listings/Canva
Never underestimate the ingenuity of an inspired Illinois person. It's not easy to take an old school bus and convert it into a fully-functional tiny nature home, but that's what one man has accomplished.
I saw this interesting creation on Tiny House Listings. According to the description, a guy named Aaron has put quite a bit of work into this old 1996 school bus. Here's a snippet of how he describes it:
New tires and brakes. New alternator, thermostat,high pressure oil pump, ECM, engine bay wiring harness, icp sensor, over 13, 000 in mechanical repairs not including the 6 brand new tires. We have all receipts to confirm repairs made. Runs good recently drove it from Arkansas to Illinois.
Driving through Arkansas is not easy no matter what kind of vehicle you're in. Take a look at Aaron's creation. I'll give him bonus points for the vintage Farrah Fawcett poster pillow, too.
The kitchen counter he put in this bus is unique. Very rustic.
He's created a big enough space in the back where a bed could easily fit in this. Not sure of the exact measurement, but looks like it would work.
I remember riding in a school bus like this and I rarely had a window seat. Loved getting kicked in the shin by every bully that would walk by. That wouldn't be a problem in this bus.
It looks like Aaron figured out where the power would come from with this nifty mount of a generator on the back. This bad boy could almost survive the zombie apocalypse with this self-sufficiency.
According to Tiny House Listings, this 1996 school bus conversion is available for around 25 grand. Check out Aaron's full listing for more pics and details.
See a Missouri Off-the-Grid Bus Made to Survive Zombie Apocalypse
More From KICK FM, #1 For New Country