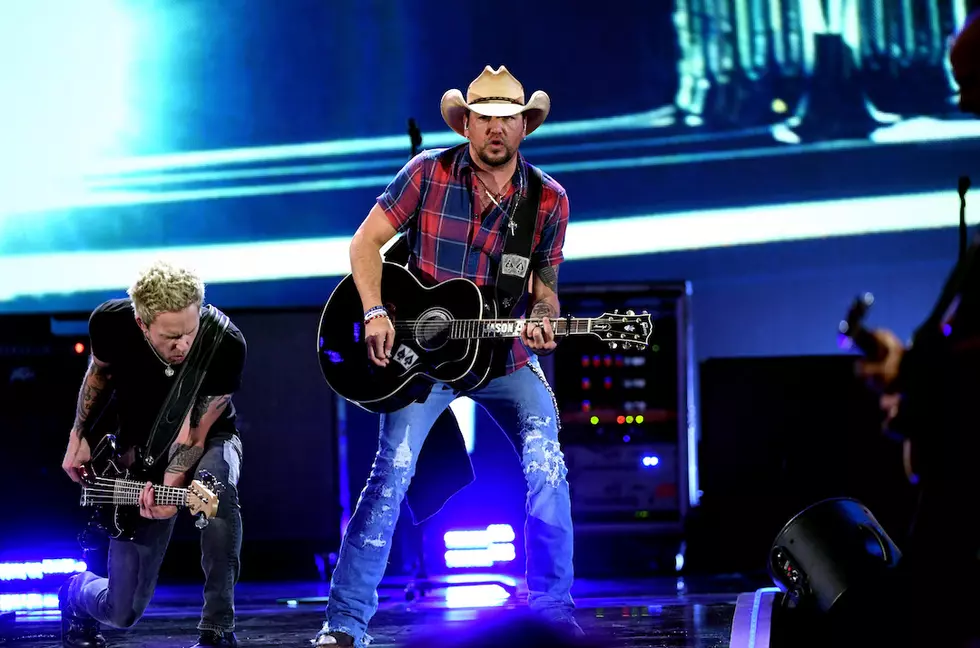 The Boot News Roundup: Jason Aldean Is Launching a Podcast + More
Kevin Winter, Getty Images
Welcome to The Boot's News Roundup, a morning rundown of the news country music fans need to know. Read on to learn more about the latest goings-on in the country, Americana, bluegrass and folk genres.
Jason Aldean is the star of a brand-new podcast that's tied to his recently released album 9. According to AllAccess, the three-episode podcast is titled Jason Aldean 9: The Podcast, and features actor Kevin Connolly telling the story of Aldean's award-winning, record-shattering career and the stories behind the album's songs. All three episodes of Jason Aldean 9: The Podcast are available now via TuneIn.
In 2020, Brad Paisley will host his first-ever Celebrity Dodgeball Tournament in Nashville. Set for Feb. 20, the eight-team tournament is officially sanctioned by the National Dodgeball League (which is, apparently, a thing) and will feature some of Paisley's famous friends playing dodgeball, performing beloved songs and more to-be-announced surprises. Proceeds from ticket sales will benefit the Store, a non-profit, free grocery store that Paisley's currently developing in collaboration with his wife, Kimberly Williams-Paisley, and his alma mater, Belmont University. Tickets for Brad Paisley's Celebrity Dodgeball Tournament go on sale on Friday (Dec. 6) at 10AM ET.
Ruston Kelly has added a slew of new dates to his 2020 headlining tour. The newly added dates will kick off on Feb. 15 in Tampa Bay, Fla., and includes shows in Georgia, Alabama, North Carolina, Wisconsin and Indiana; Kelly will conclude the tour on March 6, with his first-ever headlining performance at Nashville's Ryman Auditorium. "Words cannot express the honor and excitement I have for headlining the Ryman," Kelly says in a statement. "It has been the North Star to me as far as establishing myself as a touring artist. I've been dreaming of playing my own show there for a very long time." Tickets for the new shows go on sale on Friday (Dec. 6) at 10AM local time.
Jerrod Niemann has announced plans for the first leg of his headlining 2020 Ghost Rider Tour. The trek kicks off on Feb. 6 in San Diego, Calif., and will make stops in Nevada, Idaho and Colorado before concluding on Feb. 21 at the Terry Bison Ranch in Cheyenne, Wyo. Scope out the full list of Niemann's tour dates and details on tickets via his official website.
More From KICK FM, #1 For New Country