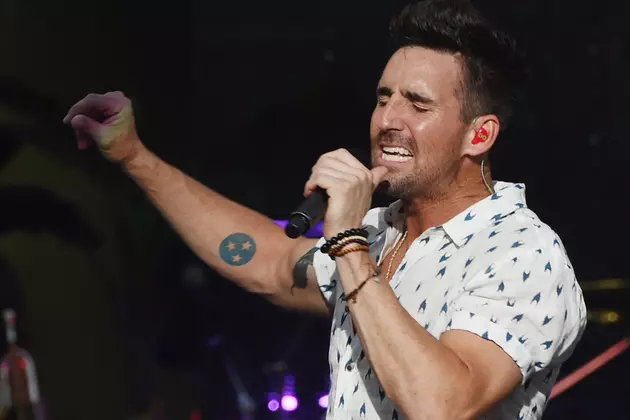 Jake Owen Shares Touching Message One Year After Route 91: 'You Will Always Be in My Heart'
Rick Diamond, Getty Images
Jake Owen had just finished his set and was watching Jason Aldean's headlining performance from side stage at the Route 91 Harvest Festival in Las Vegas on Oct. 1, 2017, when bullets were fired into the festival crowd. On the one-year anniversary of the massacre, Owen has victims and survivors of attack on his mind.
"A year ago today people were loving life. They were singing along. Families and friends. 58 lives were lost and thousands were injured and lives changed forever. You will always be in my heart and on my mind."
Owen spoke with several media outlets immediately after the shooting. There was "chaos and fear in everyone's eyes" he told CNN a year ago.
"This sounded like a full-on, automatic rifle just unloading at that point," he remarked to the Bobby Bones Show. "Jason was out on the catwalk, he just pulled his guitar up in the air and started running back towards the drum set to get off the stage. And that's when you knew. People started fleeing. I've never seen anything like this before."
In a more recent interview with Taste of Country, Owen says that the shooting, which left 58 country music fans dead, has changed his outlook on life, as well as his career.
"The whole Vegas thing gave me so much perspective, personally," he says. "Now I look out into the crowd of people coming out to enjoy a show differently. They are not only coming out to see an artist they like, but some of them are coming out to escape a little from everyday life. They are there to create memories with the people they love."
"It's not that I didn't understand that before — I did," he insists, "But now, more than ever before, my job is to go out there and entertain."
The gunman — who acted alone — wounded hundreds of people before taking his own life in his Mandalay Bay hotel room.
These Are the Names and Faces of the Victims of the Las Vegas Shooting
More From KICK FM, #1 For New Country