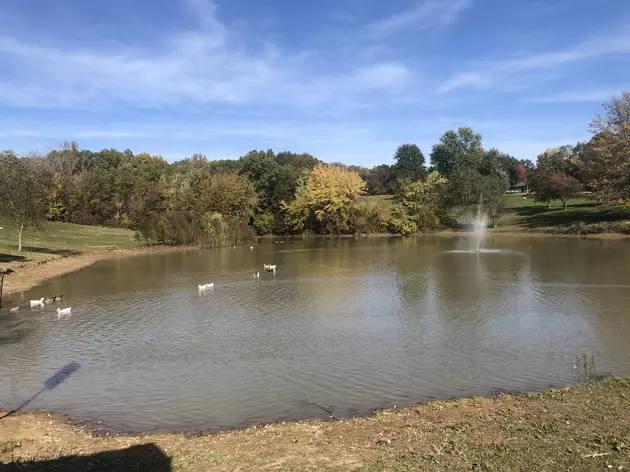 Fish Released in Hannibal's Huckleberry Park
Hannibal Parks & Recreation
By this time next year, Hannibal will have a new fishing hot spot.  Hundreds of fish were released into Huckleberry Park pond recently, but the pond won't be ready for people to fish until next spring.Aron Lee, assistant director of Hannibal Parks & Recreation, said the fish were purchased from Curryville Fisheries. The pond was stocked with 18 pounds of fathead minnows, 300 red ear sunfish and about 900 bluegill. Lee said those fish will be given the chance to grow and reproduce; and in the fall there will be bass and channel catfish released into the pond.
The Missouri Department of Conservation recommended what type of fish to be stocked in the pond. The MDC website reads: "A proven fish stocking combination that provides both food and good sport-fishing is bluegill, channel catfish, large mouth bass and often fathead minnows initially as a forage fish. When stocked in this order and properly managed, these species together provide great fishing and good eating."
Lee emphasized that the pond will not be ready for fishing until next year. "These fish will be too small and vulnerable to catch until then," he said.
The renovated pond was funded with the help of an $184,000 Land and Water Conservation Fund grant. The pond, in the 63-acre park at U.S. 61 and Huckleberry Drive, was leaking water and it had bank erosion and accessibility issues. The pond was drained, excavated and lined with clay. It was widened at its north and the shore was lined with stone rip-rap to control erosion.
A sidewalk was constructed around the pond and a handicap-accessible dock will be installed for people with mobility issues.
Huckleberry Park is the park in the Hannibal park system with the most amenities, including handicap-accessible playground equipment at the playground, a Born Learning Trail around the playground, a big picnic shelter, tennis and pickle ball courts, basketball court, softball field with handicap-accessible dugouts, a Ramp Park for scooters, skateboards and bicycles and an 18-hole disc golf course.
More From KICK FM, #1 For New Country