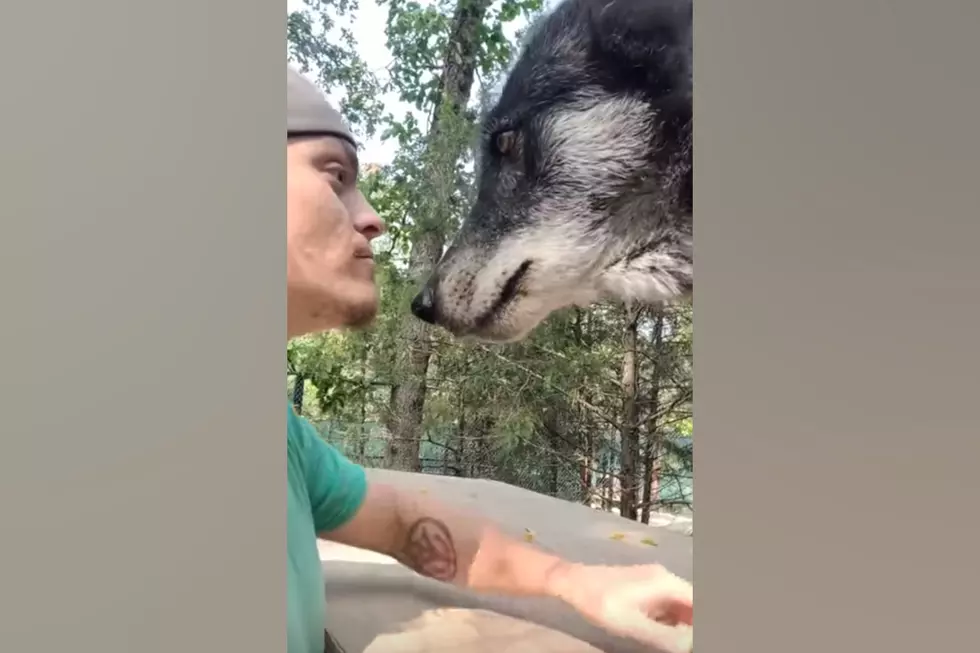 That Fun Time When a Missouri Man Got Up Close with a Real Wolf
ViralHog via Rumble
This man is braver than me. I realize that really isn't saying much considering the fact that in a fight or flee scenario, I'm probably running. However, I think most people aren't as brave as a Missouri man that got up close and personal with a real wolf and lived to tell about it.
I need to state that there are special circumstances at work here. This Stanton, Missouri man is a handler who works at Wild Animal Adventures and he's known this wolf since he was...a little wolf. Here's his backstory on the video share:
It is a game that we have played since Nahkato was a puppy. I bottle raised him and his sister from 5 days old. He is at Wild Animal Adventure in Stanton Missouri where I work as an animal caretaker.
Nice puppy...oh, wait.
Wild Animal Adventures is quite a place, by the way. They say (and I quote) that you can "come see a tiger, feed stingrays, play with dingoes, hold a gator and see a kangaroo". To state the obvious, those are not normal things you can do in Missouri.
Oh, and if you see a real wolf (this can happen in Missouri), please don't go trying to play paw games with the animal. This will likely not end well for you or the wolf although it would be quite a story to tell...if you survive it.
Wild Animal Adventures isn't far away located just to the southwest of the St. Louis area down I-44.
See a Dreamy Missouri Lake Home Right Across from Margaritaville
More From KICK FM, #1 For New Country