Toby Keith, Carrie Underwood Battle for Top Spot in ToC Top 10 Video Countdown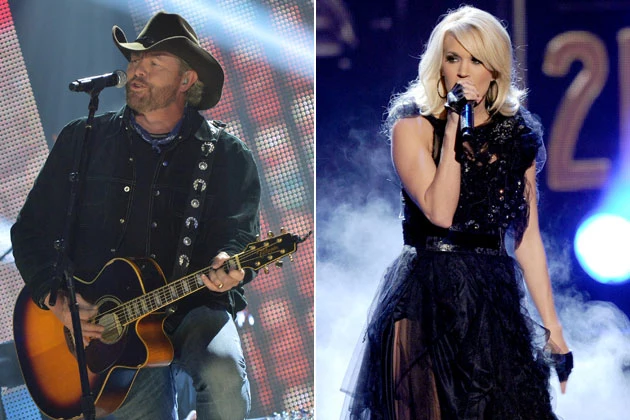 Two country superstars clashed at the top of the Taste of Country Top 10 Video Countdown this week, with fans of Toby Keith and Carrie Underwood going vote for vote for new videos 'Hope on the Rocks' and 'Two Black Cadillacs.' Did Underwood hang on to repeat at No. 1?
Ashley Monroe debuted her new video last week, and the clip premiered in the ToC countdown in its very first try. Fans embraced 'Like a Rose,' as well as new videos from Miranda Lambert, Eric Church and Blake Shelton this week. How did 'Downtown' from Lady Antebellum and 'Somebody's Heartbreak' from Hunter Hayes do? Click the button below to find out, and be sure to come back on Monday to vote for next week's countdown.
Taste of Country Video Top 10 – March 22, 2013:
No. 10 – Eric Church, 'Like Jesus Does'
No. 9 – Ashley Monroe, 'Like a Rose'
No. 8 – Hunter Hayes, 'Somebody's Heartbreak'
No. 7 – Kix Brooks, 'Moonshine Road'
No. 6 – Casey James, 'Crying on a Suitcase'
No. 5 – Blake Shelton, 'Sure Be Cool If You Did'
No. 4 – The Henningsens, 'American Beautiful'
No. 3 – Miranda Lambert, 'Mama's Broken Heart'
No. 2 – Toby Keith, 'Hope on the Rocks'
No. 1 – Carrie Underwood, 'Two Black Cadillacs'
Source:
Toby Keith, Carrie Underwood Battle for Top Spot in ToC Top 10 Video Countdown