Miranda Lambert Announces New Album, 'Platinum'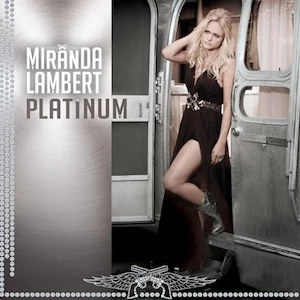 New music from Miranda Lambert is on the horizon! The star singer has announced the release date and cover art for a brand new album called 'Platinum.'
Lambert appeared on 'Good Morning America' Monday (March 10) to break the news, revealing that her fifth studio album will street June 3, 2014. To top it off, she also unleashed the album cover!
Going with the theme 'Platinum,' the palette is a mix of black, grey and silver, and Lambert is truly the star of the art. Adorned in a slinky black dress with a thigh-high slit, she's as evocative as ever.
The 'Mama's Broken Heart' singer has taken her time with her newest album. By the time 'Platinum' is released, it will have been two years and eight months since her last full-length solo album. But wasn't dragging her feet — Lambert was busy as a bee, and also very intentional with the record. During that time, she released Pistol Annies' second album 'Annie Up,' extended her tour and focused heavily on making 'Platinum' absolutely perfect.
"From the day you kinda go I need to start looking for songs and writing songs, it feels like no matter how much time you have, you're rushed. And so I didn't want to rush it at all," she explains. "To me it's all about timing and making sure that you can feel like you can finally sit there and go, OK, the album's done, and never have a moment where you go, I wish we could change that or I wish we had a different song."
The 16-track album has eight songs that Lambert wrote or co-wrote, along with a collaboration with Carrie Underwood on 'Something Bad.'
"We're really rocking in country music and we're coming together as a force," Lambert shares of the pairing. "To me, like, if you're sitting on the front row, you might want to scoot back. It's a force. It just feels exciting to me. I'm ready to rock."
However, those expecting 'typical' Miranda Lambert may be surprised by the direction she took on 'Platinum.'
"There's humor on this album, and nostalgia, and it's feminine," the singer spills. "There's girl power, not in the 'I'm gonna burn your house down and kill you, but more where I am as a 30-year-old woman and wife. I'm more settled in life, embracing the good and the bad, and that's all reflected on 'Platinum.'"
She adds with a laugh, "I still blaze around — but in a less chaotic way."
Source:
Miranda Lambert Announces New Album, 'Platinum'